It's been a hectic 24 hours for fans and supporters of gospel singer, Kelly Price. She was reported missing after a failed welfare check at her home last weekend. Some reports had suggested that she had been located but her sister, Shanrae Price, says that she is still missing.
The comments were made during the Larry Reid Live show Friday (Sept. 24) following claims from Kelly's lawyer that she was marked safe. "I'm just asking everybody to pray," Shanrae said. "I understand the attorney is stating that my sister is okay. We don't know anything until we physically see her. You all know her history. My sister is a very visible person, we haven't heard anything from her in months…this is unlike her. No one has heard from her."
The cryptic Instagram re-post.
Family became suspicious after the Grammy-nominated songstress' recent battle with COVID-19 and her surprising discharge. According to TMZ, Price had been having a difficult time with the virus and ended up in the ICU. "Kelly's family told us her kids recently got a call that she was discharged, which surprised them because she was apparently not fully out of the woods," writes TMZ. The usually-vibrant gospel singer's social media accounts had all gone dark following the COVID announcement, until a detail-less re-post on Instagram claiming that she was "recovering" and "strong".
Hoping that's true but I must admit, I am a bit surprised that a "strong" and "recovering" Kelly Price didn't at least write an original message to her fans.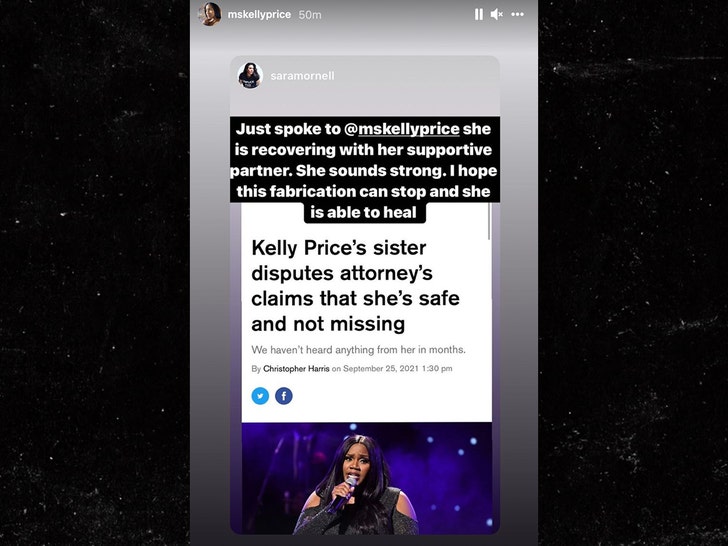 Hope she's safe.
As expected, there are quite a bit of opinions surrounding this story. You can think what you want to think but just be sure to keep good spirits and high hopes for her safety. I'm not much of a conspiracy theorist and I usually take things for their face-value, but that re-posted message doesn't sit right with me.